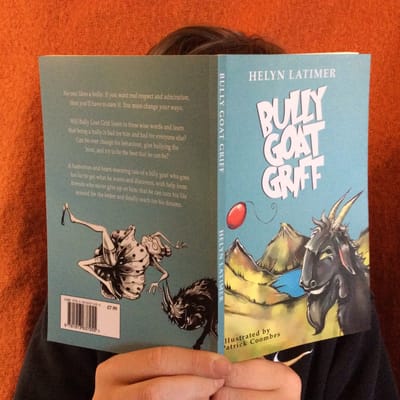 Booking opportunities are now open for virtual author visits to schools, libraries, bookshops and festivals for 2021...(with 'real life visits' hopefully being possible at some point in the future!)
All visits are free when fifty or more books are purchased! A discount will be also be applied if 70 or more books are purchased! The visit includes readings, Q&A sessions and even a bit of puppetry! Helyn is a very entertaining puppeteer and a thoroughly engaging, enjoyable and interactive presentation is guaranteed to delight and inspire young readers! Helyn is also a highly experienced workshop facilitator and will tailor workshops around the needs of each group participating.

Her new book, BULLY GOAT GRIFF is ideal for children aged 7-12 years.

BULLY GOAT GRIFF can be purchased directly from this website, Candy Jar Books, local book stores throughout Wales and it is also listed and available through the national award-winning bookseller, Foyles.
Should you wish to enquire about ordering multiple copies or organise a possible author visit, then please do send an email with the details of your school/library/bookstore/community space or event. I'd be delighted to hear from you! Let's get kids reading!