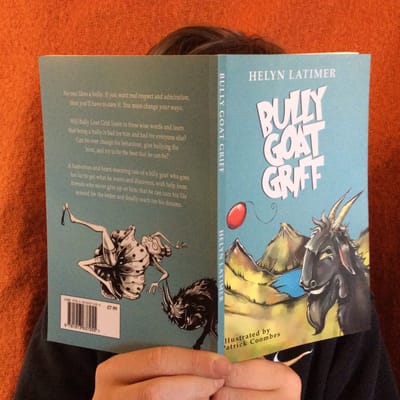 Booking opportunities are now open for author visits to schools, libraries, bookshops and festivals for 2021 and 2022.
Helyn is a very entertaining puppeteer and a thoroughly engaging and enjoyable presentation is guaranteed to delight and inspire young readers! The presentation lasts for 30 minutes followed by a Q&A session. A visit may also provide the opportunity for book sales to be organised and for children to have their own copies of the book signed.
The author visit is FREE if 30 or more books are purchased.

Her new book, BULLY GOAT GRIFF is ideal for children aged 7-12 years.

BULLY GOAT GRIFF can be purchased directly from this website or ordered through local book stores throughout Wales. It is also listed with a top 5-star award on the Amazon children's literature section.
Should you wish to enquire about ordering multiple copies or organise a possible author visit, then please do send an email with the details of your school/library/bookstore/community space or event. I'd be delighted to hear from you!